Broadcast is a powerful call to action (CTA) management plugin that allows you to easy manage and display CTAs within your WordPress content.
A simple solution for a real-world problem – Broadcast allows you to rapidly create call to actions and customize the look and feel of each CTA using layout templates.
---
Examples
The following Broadcast examples are samples of what can be accomplished with the plugin.
Default Layout
This example takes the default layout and creates a responsive CTA displayed within a content area.
View Example
Newsletter Signup
This example will insert a newsletter signup form directly into the content area of the page.
View Example
🔥  Stay tuned – We have more example coming very soon!
---
Broadcast Shortcode
Broadcast is integrated with the front-end of your website using WordPress shortcodes. Shortcodes allow for CTAs to be inserted into content anywhere on your site – from the content editor and widgets zones to directly inside of .php templates within your theme.
The screenshot below shows you how to build you own custom Broadcast shortcode inside of WordPress.
Shortcode Parameters
cta

The ID of the call to action.

Default = null

layout

The ID of the layout to use for rendering the call to action.

Default = null

align

The alignment of the call to action on the screen (left/center/right).

Default = 'left′

width

The width (in percentage) of the call to action.

Default = '50′

classes

Attach custom classes to the Broadcast CTA container.

Default = null
Example Broadcast Shortcode
[broadcast cta="25935" layout="25936" align="center" width="60" classes="my-class"]
---
Layouts
Layouts are used to display call to action content on the front-end of your website. They typically contain a mixture of HTML, PHP and core WordPress functions such as the_title(), the_content(), the_post_thumbnail() etc.
Layouts are essentially templates that allow you to style and display your call to action content to your visitors. One feature of using layouts for displaying data is you can reuse the same CTA across your website but style the CTA differently by creating a unique layouts for a specific placement.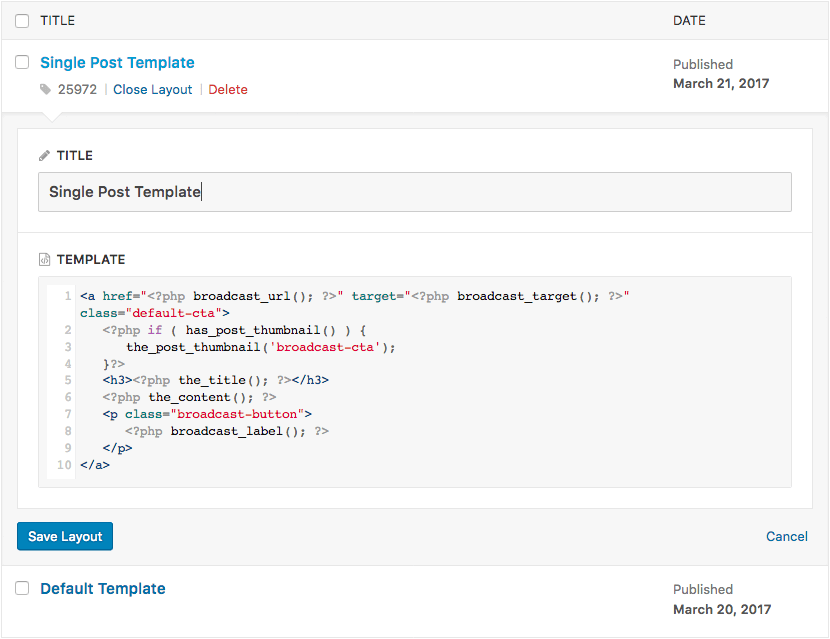 ---
Screenshots
Broadcast is beautifully integrated with WordPress – check out some admin screenshots below.
Dashboard
The Broadcast dashboard/settings pages allows for updating of global plugin settings and building of a custom Broadcast shortcode.
Call to Actions
The Call to Actions dashboard displays a list of your active call to actions – just like the standard WordPress posts and pages sections you can create, edit and delete for this screen.
Layouts
The Layouts dashboard displays a list of available layout templates. Clicking into a layout will allow for editing of the layout directly inside of your WordPress admin.
Post/Page Edit Screens
Insert a Broadcast shortcode while directly editing a post or page. Click the Broadcast icon in the content editor toolbar to pop up the shortcode builder.
---
Ok, you've heard enough?